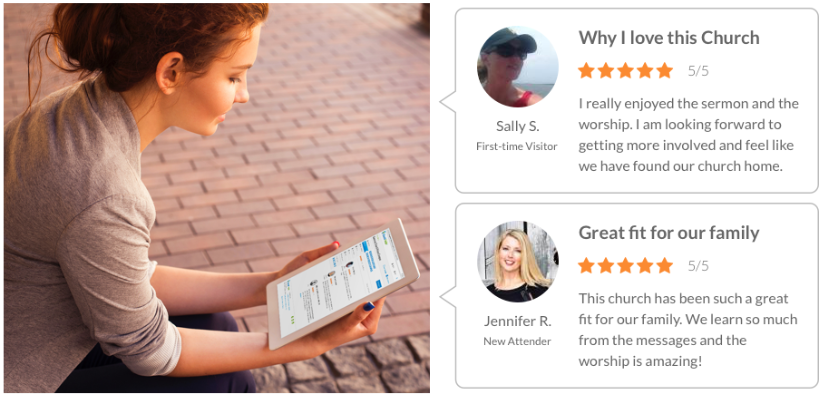 The first part of Pastor's Guide to Church Reviews showed some of the reasons why Church Reviews are so important today.
Part 2 provides you with an easy 3-Step Action Plan so your church can get quality reviews and become a 5-star church. This will improve your on-line reputation and help you better connect with potential visitors on-line.
PART 2: HOW TO BECOME A 5-STAR CHURCH
3 Step Action Plan…
Step 1: Focus on the Top 3 Sites for Church Reviews
Your time is important – and you want to get the greatest amount of impact for the least amount of effort. To accomplish this, we recommend on focusing on 3 sites for your Church Reviews and on-line reputation:

ChurchFinder.com – many Seekers start on Google, but then use ChurchFinde to create a shortlist of churches to visit. With the largest audience of people looking for a church in most cities, ChurchFinder is also the #1 site focused on Church Reviews.
Google – it's where the majority of Seekers will start their search for a church, so your Google rating and reviews are important.
Yelp – although Yelp is known more for restaurant reviews, it does have a "Religious Organizations" category, so some people do look at church reviews on Yelp. Therefore, we recommend it as the third site you should pay attention to.
Focus your efforts on these 3 sites, and your church will have an excellent on-line reputation!
Making it Easy for You
If your church has upgraded to ChurchFinder Pro, you have a simple solution called ShareMyChurch that can help you improve your on-line reputation on all three of these sites!
Step 2: Start your 5-Star Rating on ChurchFinder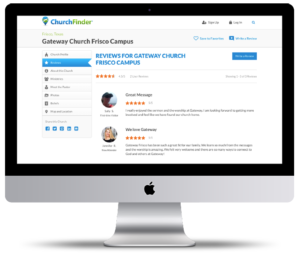 Two reasons to start your Church Reviews on ChurchFinder:
First, we make it easy for churches to get started with Church Reviews.
And the second reason…
ChurchFinder.com is the #1 Church Reviews Website
Each month several hundred thousand people use ChurchFinder.com to decide on churches to visit. The church reviews and 5-star ratings influence their decisions of whether or not to visit.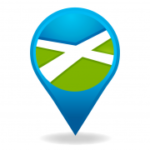 Did you know?
4 Million people use Church Finder®
Last year over 4 million seekers used ChurchFinder.com to help them on their journey of finding a new church.*
Write a Church Review (Less than 5 Minutes)
You can start your 5-star Rating on ChurchFinder with only 1 review – and it only takes about 5 minutes!
To write a review for your church…
Go to your ChurchFinder Profile
Click on "Write Church Review" button
You can also follow the simple instructions here
Did you do it? Congratulations – your ChurchFinder Profile now has a 5-star rating!!!
Have you upgraded to ChurchFinder Pro yet?
Just having a ChurchFinder Profile with a 5-star rating doesn't mean anyone will ever see it. Since ChurchFinder.com has the largest audience of people looking for a church in almost every city, with a great ChurchFinder Profile and a 5-star rating, you can reach many potential visitors for a very low cost.
And if you have ChurchFinder Pro, one of the benefits is that your 5-star rating shows up in your Featured Listing at the top of your Target City!
Now that you've taken the first step…
Step 3: Engage Your Congregation
Do people LOVE your church?
Do they have a story about how God had changed their lives?
Ask them to share it with their friends on-line by writing a Church Review!
Engage your congregation to write Church Reviews and share on social media. It's a great way for them to connect their friends with the church!
If you have ChurchFinder Pro, then we have something that makes this very easy for you and your congregation. It's called ShareMyChurch…
Share My Church is an outreach and growth program for local churches, making it easy for their members to give 5-star reviews and share their reviews on social media. It's the 21st century way to invite your neighbor to church!
Learn More